Presentation of Throne : Kingdom at War
Throne Kingdom at War is a medieval web browser strategy game designed by the Plarium LLC group. Throne Kingdom at War, released in 2016, is an MMO available for free on mobile and for some time on computer. As you will have understood, the game Throne kingdom at War is a strategy title, with a huge focus on managing/creating your constructions. Thus, you will have to design a city and optimise it in order toraise an army and conquer a multitude of different places and lands. One can compare the finality of Throne: Kingdom at War to a game like Imperia.
The visuals of the MMO are sublime. Indeed, it uses 3D graphics, bright colours and a beautiful medieval inspired design. In addition, the music is also highly enjoyable. In the end, in Throne: Kingdom at War, you can be whoever you want to be: a pacifist ruler or an army leader just eager for battles and blood.
Features of Throne: Kingdom at War
The Plarium group has two main titles in Throne: Kingdom at War. Indeed, the MMO is based on the Nord and Viking games in all the following points: ergonomics, mechanics, functions or even storyline. In the end, the main change is in the universe in which gamers will evolve and fight. In Throne: Kingdom at War, players will be rich conquerors with a thirst for power. These various great lords will try in every way to assert their right to the throne. Then, as a gamer, you will have to develop your military arsenal and collect the resources necessary to build the cities. To do this, you will be able to steal from other lords or attackers, who are managed by artificial intelligence.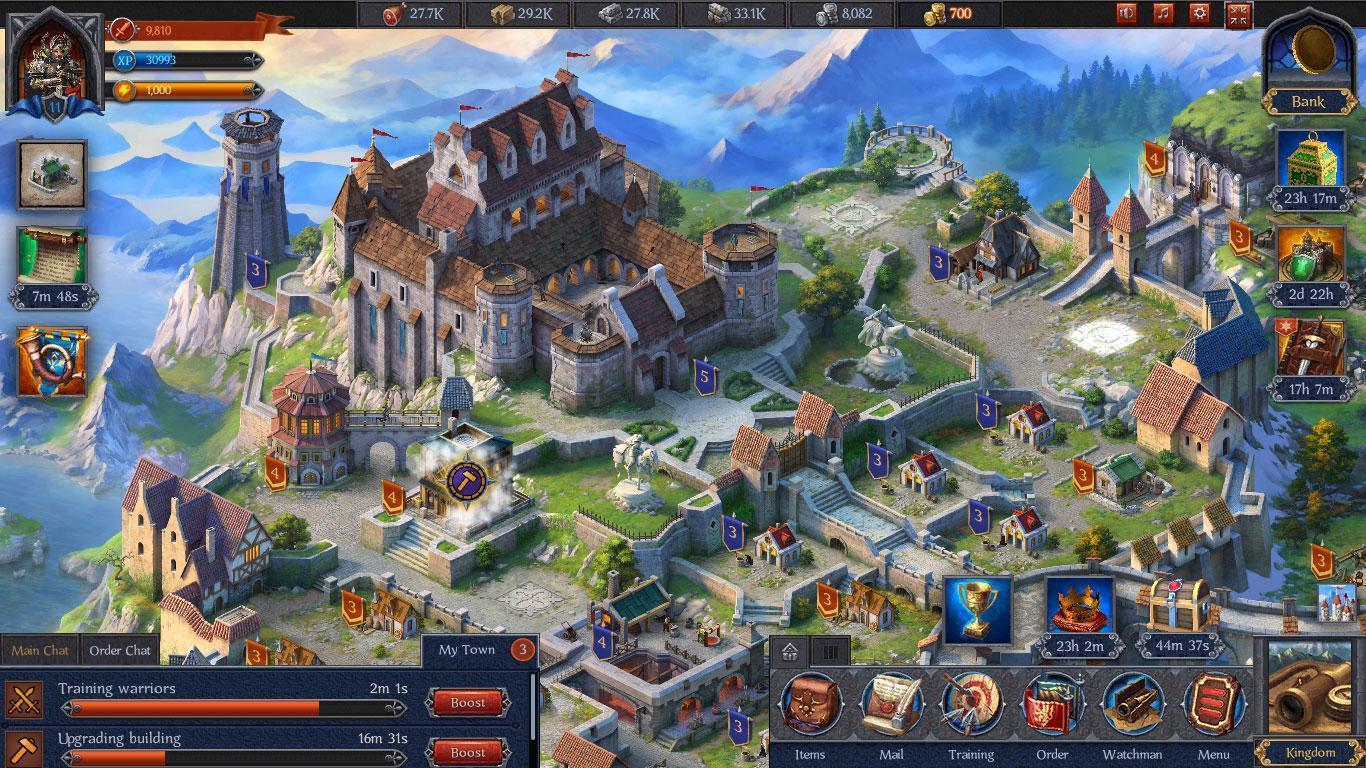 The arms race will however be slowed down by long waiting times for tasks such as research, human recruitment or building design. Thus, the imbalances that are typical of this type of game can be found in this strategy MMO. Finally, there is an interesting concept for premium players to optimise the current processes.
Our conclusion on Throne: Kingdom at War
The MMO Throne Kingdom at war, Plarium does not offer any innovations, but the game is still really enjoyable. Throne Kingdom at War is a game for gamers who want to play in a group and are willing to invest real money, as well as for patient players. In addition, despite notable flaws in the gameplay (repetitive attacks, construction duration or dated game mechanics), the game is enjoyable thanks to its excellent visuals and the high quality of its universe.