Presentation of Shaiya
Shaiya is an online fantasy and adventure MMORPG designed by the Aeria Games group. In the Shaiya universe, you take possession of a character evolving in a hostile environment where you will have to fight against mythical creatures. The goal here is obviously toeliminate evil from the face of the earth… Shaiya is an addictive and complete medieval fantasy MMORPG. Indeed, you will find in it characters, quests and the whole panoply of a classic fantasy universe: dwarves, knights and other elves.
In addition, you should know that the field of this free online game is extremely large, and making a name for yourself is a great feat. Despite this, there is not much imagination in the world of Shaiya, and you will often find yourself in repeat mode in this MMORPG.
Shaiya's features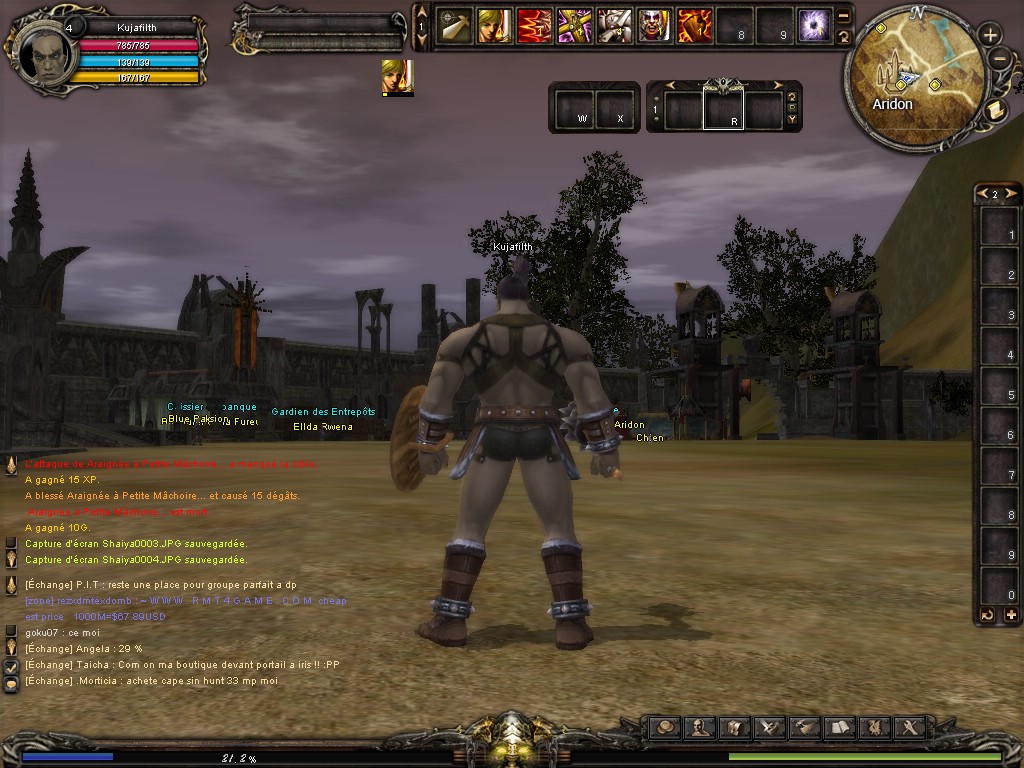 Visuals: The graphics of the MMORPG Shaiya are well done. Indeed, the effects are excellent, the scenery is magnificent (even if it is sometimes tarnished by a low quality texture). As for the animations, they lack some flexibility
.
Gameplay: The gameplay of this title is based on classic, yet well-tested gameplay. The different difficulty levels make Shaiya accessible to all gamers. Furthermore, the concept of blessing the goddess is also well thought out, and it is also nice to be able to build up her different characteristics yourself. However, there are a few concerns, such as a less than optimal interface
.
Lifespan: As with many MMOs, Shaiya has an excellent lifespan, despite the repetitive
aspect. Getting to level 60 in Hard mode will be far from easy. In addition, some places are sorely lacking in quests. That's why it's hard to get monsters continuously. Finally, you should know that when the Ultimate mode is reached, a new challenge will be presented to you whose life span will be rather average.
Music: Shaiya's music is qualitative
. It uses atmospheric themes in the soft moments and more rhythmic symphonic pieces during the combat phases. Although we would have liked it to be more varied, it is still amazing for a game of this genre. Furthermore, the NPCs' voices are in Korean, which makes you smile.
Scenario: The scenario is classic even if the main storyline of the fight between the Shadow and the Light is pleasant. The developed mythology is interesting
, as well as the proposed characters. However, the background is not optimized enough with the quests.
Our conclusion on Shaiya
The world of free MMORPGs of Asian origin is a real jungle where it is complicated to choose a game that suits you. The offer is huge, so it's really hard to find your way around. But with the MMO Shaiya, there is little chance of being frustrated. Indeed, the game integrates a good gameplay based on the fight between gamers of Light and Fury, around an excellent realization. If you are a fan of the genre and are looking for a new playground, give Shaiya a shot. Despite a certain repetitiveness, theuniverse is qualitative. Don't hesitate to download the game thanks to top-mmorpg.