Our Test and Review of Pirates Tides of Fortune!
If you are interested in piracy, Pirates Tides of Fortune should make you happy. Developed by Plarium and published by Kabam, this real-time strategy game has strong arguments to please. Available as a free-to-play browser game, you play as a prisoner destined to become a terrible privateer. Your objective? To rule the 7 oceans of the globe.
Your first contact with the game will be through a clear tutorial, led by a hot-blooded pirate. This is an opportunity to discover the work done on the game's dubbing, which is of excellent quality. You will find all the lexicon of piracy, and the involvement of the dubbers reinforces the immersion. Your apprenticeship goes smoothly. You will not be attacked by players during your first steps, you will have time to evolve quietly.
Once your initiation is over, you can go into the deep end. And there, it's a pleasant surprise that awaits you if you like the world of piracy. Indeed, Pirates Tides of Fortune is a real tribute to the genre, with a very appropriate music and isometric 3D graphics that hit the spot. The overall feel is excellent, and the level of detail of the buildings, ships and other sea creatures (mermaids, kraken…) is honorable. It remains to be decided how you're going to approach the game, and that's where the difficulties will begin.
I might as well say it straight away, you won't be able to manage everything at once. You'll have to make choices, both on the strategic and the managerial side, to develop your pirate base in the best possible way. You start with a tiny island, so you'll have to take over others as you go along.
Pirates Tides of Fortune gameplay in three stages
In order to grow your empire, you will need resources. There are only three types in the game, which is not very many: rum, wood and gold. Alcohol allows you to rally more sailors to your cause, wood is needed to build ships or buildings, and gold allows you to get more or less everything. The management aspect of Plarium 's title is therefore quite basic, but sobriety is necessary in view of the number of things to manage at the same time.
You can't afford to stay cooped up on your home island. You will have to send ships to conquer new lands, and this will be done with the din of cannons and the blood of pirates. It is impossible to directly control a ship to go and fight opponents: you simply send them from your base to go and plunder or unearth treasure. But there's no time to be idle: you have to build defensive units, in case of an attack. You must therefore manage the development of your fleet, the conquest of new lands and the defence of your base. And all this is extremely time-consuming.
It should be noted that a system of brotherhoods allows you to expand your fleet. It is possible to form alliances with several players to improve the effectiveness of your attacks and ensure better results in PvP. On this subject, it is regrettable that Pirates Tides of Fortune clearly favours players who invest real money.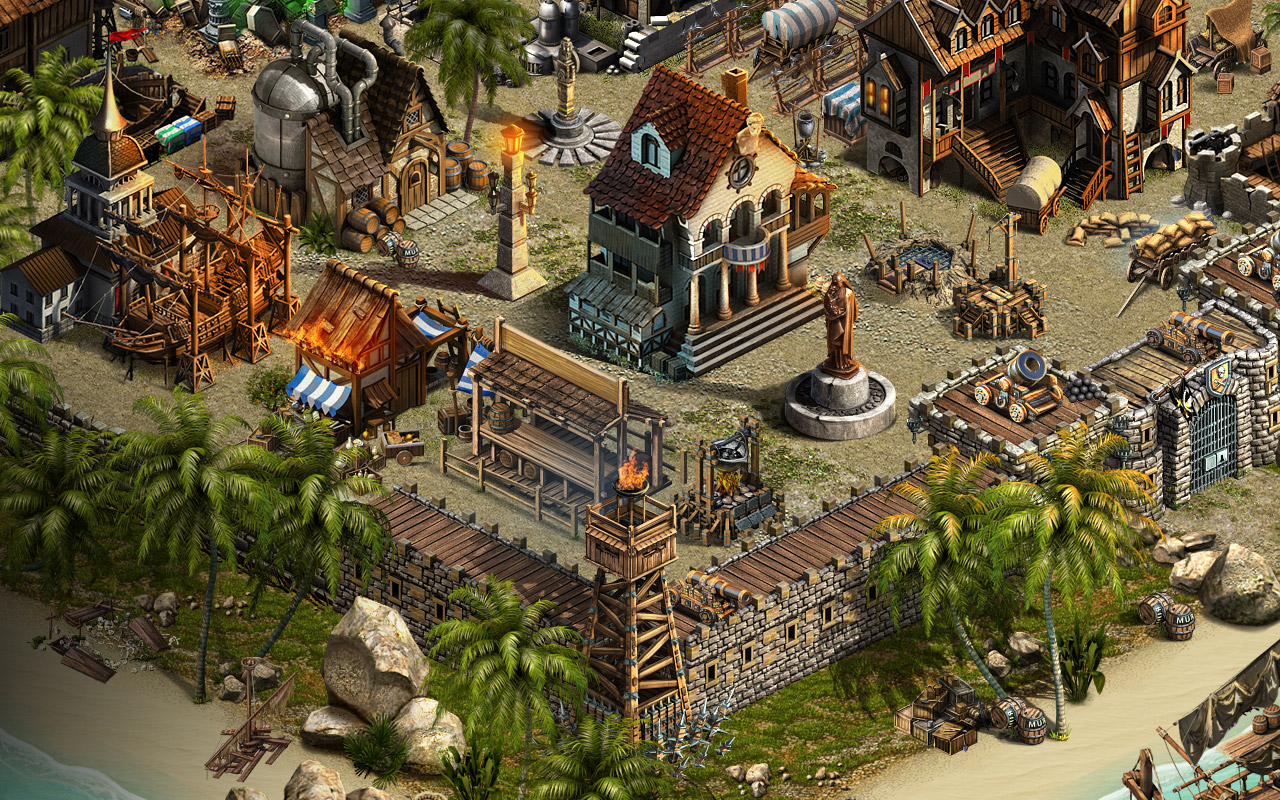 To end on a less optimistic note, you should know that the game's support has a bad reputation. Many players complain about optimization issues that are never fixed. With a community as dense as that of Pirates Tides of Fortune, this is regrettable.
Our conclusion on Pirates Tides of Fortune
Taking advantage of an immersive universe with a high quality soundtrack, Pirates Tides of Fortune manages to convince. Its gameplay oscillating between management and real-time strategy should please fans of the genre. The main focus is on the importance given to the financial investment of players.